Munich group apartment accommodation
Apartment - Entire Place
Easy Living - Stay over a shopping Mall in Munich
Bed Types:
More


X1
X3
Have any of your friends stayed here ? Log in and see.
Over 168 million social connections have been made. Join your friends and see where they've stayed.
Introduction
Long term rental, minimum three months.

A great alternative for small groups, forget multiple hotel rooms this three bedroom apartment sleeps up to eight guests and is ideal for a family or group of friends looking to stay together.

Located over a shopping mall the apartment has direct lift access to the shopping mall where you can find everything you desire and then just slip back up to your apartment.
Description
Beautifully finished 3 bedroom apartment located at Pasing.

Sleeps up to 8 guests sharing , 3 double bedrooms and 1 double sofa bed in living area.

Located 8km from the centre of Munich, a few stops on the Metro to Marianplatz & City Center

The apartment is situate at Pasing which is located about 8km west of Munich city centre.

It is located in the new Pasing Arcaden shopping centre, just 300 metres from the metro station and 5 metro station
Neighbourhood/Location
A great location for your stay, right over a shopping mall. The apartment is located over the Pasing Arcaden shopping centre, just 300 metres from the metro station/

Pasing Metro Station – 300 meter (Metro line 4,5,6,8), Tram19

DB Munich-Pasing Station – direct domestic trains to major cities

Marianplatz & City Center – 5 metro stations or 8 km

Munich Airport – direct metro lines (S8 &S1) or 35 km via Autobahn
Requirements
Minimum stay is three months.

Parking provided at small extra charge
Living room
Nice large living room with designer furniture

Sofa-bed

Cable TV

Internet
Bedroom(s) and Bathroom(s)
Three Bedrooms , 1 double bed and 3 x double sofa beds,

1 bathroom

Towels supplied

Baby crib supplied
Kitchen
Kitchen has all you need for preparing meals. Comes with coffee machine and washer and dryer
Other information
DRIVING DIRECTIONS BY GPS
GPS: 48,148908 11,46349

There is a communial Playground and Garden.
















Weekend (FRI, SAT, SUN)
295€ 4 Guests Only
Midweek (MON, TUE, WED, THU)
275€ 4 Guests Only
Each Extra Guest:
25€ per guest
Rates will be automatically calculated and includes all tax and charges

Summary of Rates
Rate
Minimum Stay
Extra Guest Rate
20 February - 23 February
NHORGENTA
495.00 €
Base
25.00
17 March - 20 March
LASER World of PHOTONICS CHINA 2015
495.00 €
2
25.00
2 April - 7 April
Easter
575.00 €
4
25.00
16 April - 19 April
Trade Fair for Environmental Technologies
495.00 €
2
25.00
9 September - 18 September
Trade Fairs
495.00 €
3
25.00
21 September - 8 October
Beer Festival
650.00 €
5
25.00
13 October - 22 October
Trade Fairs
495.00 €
3
25.00
24 November - 30 November
Trade Fair 25-28 November,
500.00 €
4
25.00
22 December - 6 January
Christmas - New Year
575.00 €
5
25.00
8 January - 13 January
International Trade Fair
500.00 €
Base
25.00
19 January - 24 January
BAU Trade Fair
495.00 €
Base
25.00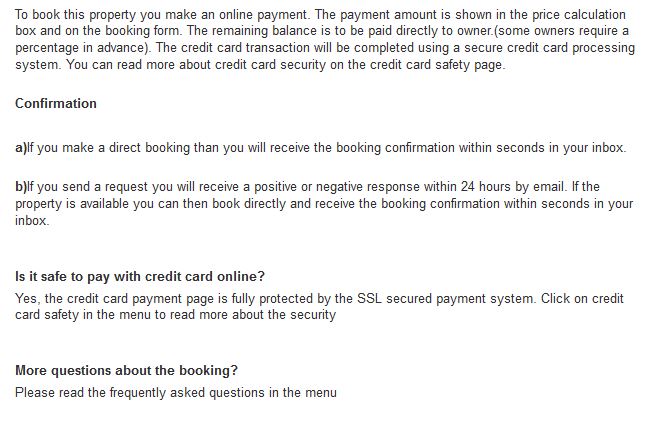 Where and how do I get the keys to the property?
Your confirmation mail will include the telephone number to contact the greeter\owner upon arrival at the aiport of train station, You can arrage a time to meet the contact person at the property to make payment and get the keys
Check in time is from 14:00 and Check out is before 11:00
Please note that some owners have an extra charge for late check in
Can I check in early or where can I leave my luggage until check in time?
Early check in is only possible if the property is not booked the night before you arrive. You can arrange this with the owner 24-48 hours before your arrival.
EXTRA SERVICES
How can I get from the airport to the property?
Your confirmation mail will include instructions for getting to the property from central station.
If l have any questions or problem while I am in the city or at the property, how can I get help?
If have any problems with the accommodation or need any advice. we are on hand to help. Our Live Concierge Senvice is manned sixteen hours per day. Just click the Live Chat button on the site You will also have the contact number for the owner/greeter
The Emergency phone number is 001.646.468.6000