Apartment - Entire Place
Munich Comfort for a comfortable stay
20% discount for stays of 180 nights or more
Average studio apartment comprises a single room combining bed / living and kitchen all in the same room,1 bathroom
Bed Types:
More


X1
Have any of your friends stayed here ? Log in and see.
Over 168 million social connections have been made. Join your friends and see where they've stayed.
Introduction
Located in the Giesing district of Munich, south-east of the city centre, this cosy studio is ideal for business or leisure travellers with direct train connections to Messe and Oktoberfest.
Description
The 24m2 space comprises a combined living room and bedroom, separate kitchenette, small dining table and bathroom with tub.

Internet and on-site parking are available at an extra cost
Neighbourhood/Location
The apartment building is located in a residential area with supermarket, shops, taxi rank and train station within a ten-minute walk.

S- and U-Bahn takes 10 minutes to reach the city centre and the Oktoberfest site.

If you're driving, Central Station is 7 minutes (5,2 km) away, the airport 34 minutes (32,7 km) and Oktoberfest 11 minutes (9,8 km).
Requirements
100% payment in advance is required. A payment of 15% made upon booking and the remainder upon receipt of the invoice from the apartment provider.

This apart-hotel has a number of 'Comfort Apartments' variously decorated, as shown in the photos, but all with the same facilities.
Living room
The living area is basically furnished with a small table, 2 chairs, TV and DVD player and Hi-Fi equipment with USB function.

The room also has a safe.
Bedroom(s) and Bathroom(s)
The studio has a double bed and the bathroom comes with
- Bathtub
- WC
- make-up mirror
- hair dryer
Kitchen
A basic kitchenette provides fridge, coffee machine, hot plate, microwave and cooking utensils.
Other information
» Apartment cleaning (weekly)
» Laundry (coin operated in basement
» Internet (Paid)
» TV - Flatscreen with free view
» Sky TV
» Reception / Concierge
» Fitness centre (10 mins walk) Free to long staying guests otherwise paid.
» Breakfast (available for extra charge)
» In room Safe
» Underground Parking (Paid)
» Elevator serving all floors
» Post Box (Long term Guests Only)
» In Room Music System
» Shopping Service Available (before your arrival)
» Welcome Set



















20% discount for stays of 180 nights or more
Weekend (FRI, SAT, SUN)
99€ 1 Guest Only
Midweek (MON, TUE, WED, THU)
89€ 1 Guest Only
Each Extra Guest:
10€ per guest
Rates will be automatically calculated and includes all tax and charges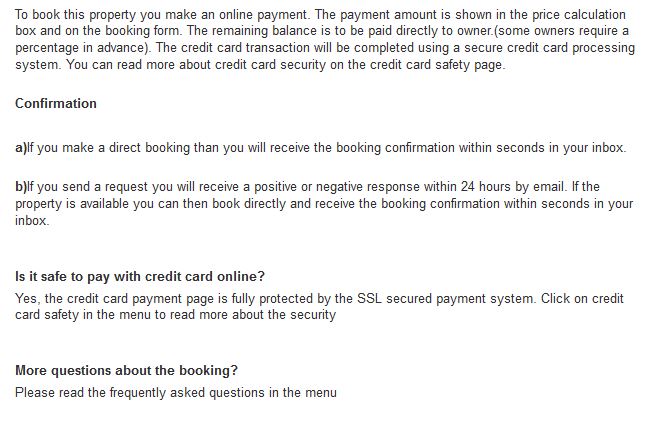 Where and how do I get the keys to the property?
Your confirmation mail will include the telephone number to contact the greeter\owner upon arrival at the aiport of train station, You can arrage a time to meet the contact person at the property to make payment and get the keys
Check in time is from 15:00 and Check out is before 11:00
Please note that some owners have an extra charge for late check in
Can I check in early or where can I leave my luggage until check in time?
Early check in is only possible if the property is not booked the night before you arrive. You can arrange this with the owner 24-48 hours before your arrival.
EXTRA SERVICES
How can I get from the airport to the property?
Your confirmation mail will include instructions for getting to the property from central station.
If l have any questions or problem while I am in the city or at the property, how can I get help?
If have any problems with the accommodation or need any advice. we are on hand to help. Our Live Concierge Senvice is manned sixteen hours per day. Just click the Live Chat button on the site You will also have the contact number for the owner/greeter
The Emergency phone number is 001.646.468.6000