Executive Suite Munich - stylish one bedroom apartment.
Apartment - Entire Place
Executive Central Munich Living
Bed Types:
More


X1
X1
Have any of your friends stayed here ? Log in and see.
Over 168 million social connections have been made. Join your friends and see where they've stayed.
Introduction
If you are looking for self-catering accommodation in the heart of Munich. Theses executive apartments could be the place for you.

Located just 10 minutes from the centre of the city , the apartment building is located in the south east area of Munich in the district of Giesing.

The area is residential and surrounded by everything you will need including supermarkets, doctors, pharmacies as well as a large selection of restaurants offering all types of cuisine.
Description
Great self catering accommodation catering from single guests to groups and families. Apartments range from a simple studio to a three bedroom family or group apartment.

All apartments have private bathroom and basic cooking facilities.

Internet, Breakfast and Parking are also available for a small extra charge.
Neighbourhood/Location
Getting about is quite easy , It's a five minute walk to Giesing train station for underground trains ( S- and U-Bahn ) to the city center ( 10 minutes ), the main train station ( 10 minutes walk ) brings you anywhere in the city.

From this station you can easily travel about the city and as wel as getting to the city centre in just 10 minutes.

There is losts to see around the city such as the "Deutsche Museum", the "Bavaria Film studios, the famous Olympic stadium where the 1972 event took place but is famous for much more than just sports.

The "Oktoberfest" is a special time in the city and is one that all should add to their "bucket" list

Distances:

By foot to the next taxi stand is 5 minutes to the underground station 5 minutes

By car to the main station 07 minutes (5,2 km)
to the airport 34 minutes (32,7 km)
to the fairground 11 minutes (9,8 km)
to the Allianz Arena 18 minutes (13,1km)

by public transport to the main station 09 minutes
to the airport 48 minutes
to the fairground 10 Minute
to the Allianz Arena 28 minutes
Requirements
100% payment in advance is required. A payment of 15% made upon booking and the remainder upon receipt of the invoice from the apartment provider.

The photos shown are from a selection of our Executive Suites and layouts differ but all come equipped with the same amenities.
Living room
The living area comes with a double sofa bed

Each apartment is equipped with
Telephone
DVD
Room safe
Hi-fi equipment with USB function
High-speed DSL Internet Access
Bedroom(s) and Bathroom(s)
The bedroom has a double bed.

The bathroom comes with
Bathroom with
- Bathtub with shower
- WC
- make-up mirror
- hair dryer
Kitchen
The modern kitchens come equipped with
- Refrigerator
- Coffee machine
- Microwave
- Cooking utensils, cutlery and table ware
Other information
Weekly apartment cleaning (except for the kitchen).

Weekly changing of towels and sheets.

There is a coin operated laundry and driers in the basement.
If you don't feel like washing your clothes yourself or if you want to have brought some of your clothes to the dry cleaner's, please contact the reception – we'll take care of it for you.

There's a price list for the laundry service in each room.

Each apartment is equipped with a high speed VDSL internet access via LAN or W-LAN. There is a charge of 2.50 € per day or 50 € per month.

All apartments are equipped with new 32' LCD Flat TVs.
89 TV programs in 14 languages including SKY SPORT CHANNEL.

There are also various radio channels at your disposal.

Fancy keeping fit during your stay, enjoy Fitness - Cardio - Wellness - Sauna at the Nautilus Fitness Center, Chiemgaustr. 148 - only 10 Minutes away. For further information: http://www.nautilus-muenchen.de/index.cfm?id=4596

















Weekend (FRI, SAT, SUN)
210€ 2 Guests Only
Midweek (MON, TUE, WED, THU)
210€ 2 Guests Only

Summary of Rates
Rate
Minimum Stay
Extra Guest Rate
1 April - 30 April
High Rate
660.00 €
3
0.00
1 May - 31 May
High Rate
585.00 €
5
0.00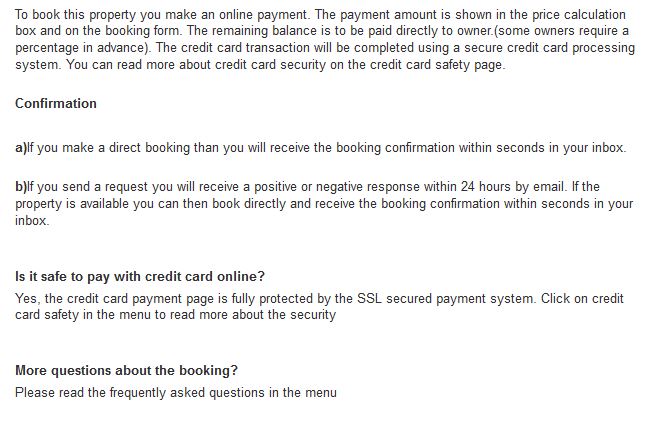 Where and how do I get the keys to the property?
Your confirmation mail will include the telephone number to contact the greeter\owner upon arrival at the aiport of train station, You can arrage a time to meet the contact person at the property to make payment and get the keys
Check in time is from 15:00 and Check out is before 11:00
Please note that some owners have an extra charge for late check in
Can I check in early or where can I leave my luggage until check in time?
Early check in is only possible if the property is not booked the night before you arrive. You can arrange this with the owner 24-48 hours before your arrival.
EXTRA SERVICES
How can I get from the airport to the property?
Your confirmation mail will include instructions for getting to the property from central station.
If l have any questions or problem while I am in the city or at the property, how can I get help?
If have any problems with the accommodation or need any advice. we are on hand to help. Our Live Concierge Senvice is manned sixteen hours per day. Just click the Live Chat button on the site You will also have the contact number for the owner/greeter
The Emergency phone number is 001.646.468.6000