Quality Studio apartment in Munich
Apartment - Entire Place
Munich Living at its best

5% discount from 27 January 2020 to 09 February 2020
30% discount for stays of 180 nights or more
Average studio apartment comprises a single room combining bed / living and kitchen all in the same room,1 bathroom
Bed Types:
More


X1
Have any of your friends stayed here ? Log in and see.
Over 168 million social connections have been made. Join your friends and see where they've stayed.
Introduction
Cosy 16m2 studio for one person located in the Giesing district of Munich about 4.5km from Munich Central Station.

The studio comes with a single bed, bathroom and a well-equipped kitchenette.
Description
With hotel services combined with the facilities of a private home, these Munich apartments strive to make your stay as memorable as possible.

The property lies south-east of the city centre, some 3.5 Km from Marienplatz, or ten minutes by S-Bahn, with shops and restaurants within fifteen minutes walking distance.
Neighbourhood/Location
Located in the primarily residential Giesing area of the city, the apartment is a five-minute walk to the underground station with S-Bahn and U-Bahn services that take ten minutes to reach the city centre.

Supermarket, pharmacy and a number of restaurants are within fifteen minutes walk.
Requirements
100% payment in advance is required. A payment of 15% made upon booking and the remainder upon receipt of the invoice from the apartment provider.
Living room
The compact studio comes with a safe, desk and chair, flat screen TV with DVD player and HI-Fi with USB function.
Bedroom(s) and Bathroom(s)
The bathroom is fitted with WC, washbasin, makeup mirror, hair dryer and shower.
Kitchen
A basically equipped kitchenette comes with fridge, hot-plate, coffee machine and microwave.
Other information
This is a one person studio apartment. For couples or larger groups there are multiple apartments available in same building. Check apartment ID numbers 805, 806, 807 for larger units.

There are a number of Quality Studios in the building as seen in the photos. All have the same layout and the same facilities.

» Apartments are cleaned weekly
» Laundry (coin operated in basement)
» Internet (Paid)
» TV - Flatscreen with free view
» Sky TV
» Reception / Concierge
» Fitness centre (10 mins walk) Free to long staying guests otherwise paid.
» Breakfast (available for extra charge)
» In room safe
» Underground Parking (Paid)
» Elevator serving all floors
» Post Box (Long term Guests Only)
» In Room Music System
» Shopping Service Available (before your arrival)
» Welcome Set















5% discount from 27 January 2020 to 09 February 2020
30% discount for stays of 180 nights or more
Weekend (FRI, SAT, SUN)
85€ 1 Guest Only
Midweek (MON, TUE, WED, THU)
80€ 1 Guest Only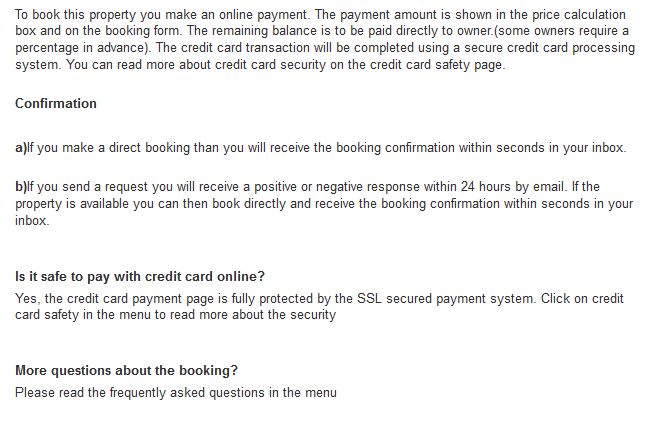 Where and how do I get the keys to the property?
Your confirmation mail will include the telephone number to contact the greeter\owner upon arrival at the aiport of train station, You can arrage a time to meet the contact person at the property to make payment and get the keys
Check in time is from 15:00 and Check out is before 11:00
Please note that some owners have an extra charge for late check in
Can I check in early or where can I leave my luggage until check in time?
Early check in is only possible if the property is not booked the night before you arrive. You can arrange this with the owner 24-48 hours before your arrival.
EXTRA SERVICES
How can I get from the airport to the property?
Your confirmation mail will include instructions for getting to the property from central station.
If l have any questions or problem while I am in the city or at the property, how can I get help?
If have any problems with the accommodation or need any advice. we are on hand to help. Our Live Concierge Senvice is manned sixteen hours per day. Just click the Live Chat button on the site You will also have the contact number for the owner/greeter
The Emergency phone number is 001.646.468.6000